Introduction
Are you ready to embark on an unforgettable adventure? Join us as we soar through the skies with Balloon Adventures Dubai, where dreams become reality and breathtaking views await. In this article, we will take you on a journey like no other, showcasing the beauty of Dubai from a unique perspective. Get ready to experience the thrill of hot air ballooning and create memories that will last a lifetime. Let's dive into this extraordinary adventure.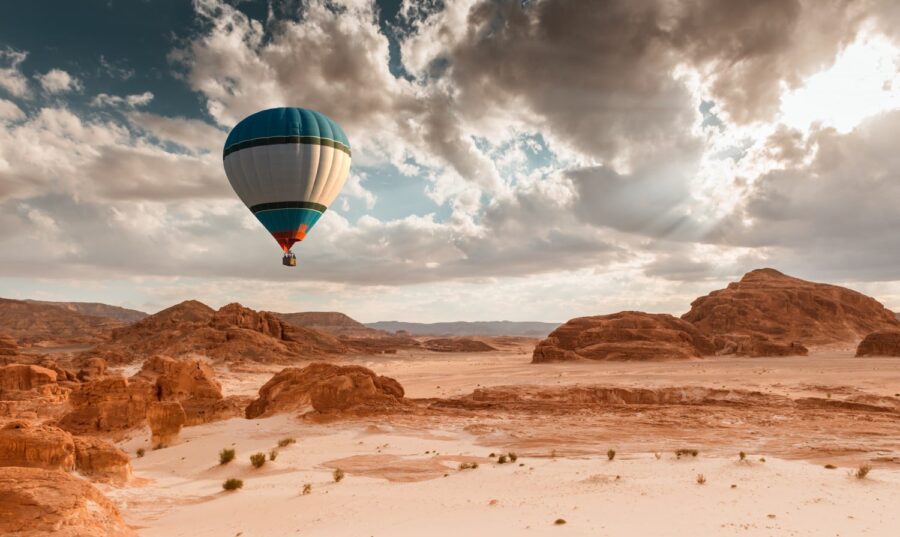 The Thrill of Balloon Adventures Dubai
Soaring Above the Cityscape: A Bird's Eye View of Dubai
Have you ever wondered what it feels like to fly? With Balloon Adventures Dubai, you can witness the cityscape of Dubai from an unparalleled vantage point. As you ascend into the sky, a sense of awe and wonder will envelop you. The stunning architectural wonders, such as the Burj Khalifa and Palm Jumeirah, will appear miniature beneath your feet. The vastness of the desert and the sparkling blue waters of the Arabian Gulf will stretch out before your eyes. This is a once-in-a-lifetime opportunity to see Dubai in all its glory.
The Sunrise Spectacle: A Mesmerizing Display of Colors
Imagine witnessing a sunrise like no other – a kaleidoscope of vibrant colors spreading across the horizon. With Balloon Adventures Dubai, you can experience this magical moment firsthand. As you gently float above the clouds, you'll be treated to a breathtaking display of oranges, pinks, and purples painting the sky. The golden rays of sunlight casting their warm glow on the landscape below is a sight that will leave you speechless. Capture this ethereal beauty with your camera or simply bask in its splendor – either way, it's an experience that will stay with you forever.
An Adventure Unlike Any Other: Balloon Rides with a Twist
At Balloon Adventures Dubai, we believe in making your experience truly unforgettable. That's why we offer unique and exciting balloon rides that go beyond the ordinary. Whether you're seeking a romantic escape for two or an adrenaline-pumping adventure, we have something for everyone.
Romantic Sunrise Flight: Surprise your loved one with a romantic hot air balloon ride at sunrise. Drift above the majestic desert landscape as you toast to love and create memories that will last a lifetime.
Exclusive Private Charter: Want to celebrate a special occasion or gather your friends for a remarkable experience? Our exclusive private charters are perfect for intimate gatherings, birthdays, anniversaries, or corporate events.
Sunset Expedition: Experience the beauty of Dubai as the sun sets and the city lights up. This evening adventure offers a unique perspective of the city's skyline and is perfect for capturing stunning photographs.
Family Fun Flight: Looking for an activity that the whole family can enjoy? Our family fun flights are designed to entertain both young and old, creating lasting memories for everyone.
The Ballooning Experience: Safety First
Your safety is our top priority at Balloon Adventures Dubai. We adhere to strict safety protocols to ensure that you can enjoy your flight with peace of mind. Our experienced pilots are licensed professionals who undergo regular training and inspections to maintain the highest standards of safety.
Before takeoff, our team will provide you with a comprehensive safety briefing, ensuring that you are familiar with all necessary precautions. From the moment you step into the basket until you touch down safely on solid ground, we will be by your side, ensuring a smooth and secure journey.
FAQs (Frequently Asked Questions)
Q: Is hot air ballooning safe?
A: Absolutely! Hot air ballooning is considered one of the safest forms of aviation. At Balloon Adventures Dubai, we prioritize your safety and follow strict safety protocols to ensure a secure and enjoyable experience.
Q: What should I wear for the hot air balloon ride?
A: We recommend wearing comfortable clothing suitable for outdoor activities. It's also advisable to bring a light jacket or sweater, as temperatures can be cooler at higher altitudes.
Q: Can children participate in the balloon rides?
A: Yes, children aged 5 and above can join the balloon rides. However, please note that children must be accompanied by an adult.
Q: Are cameras allowed on board?
A: Yes, you are more than welcome to bring your camera or smartphone to capture the stunning views during your flight. Just make sure to secure it properly to prevent any accidents.
Q: How long does the entire experience last?
A: The entire ballooning experience, including pre-flight preparations and post-flight celebrations, lasts approximately 4 hours. The actual flight time is around 1 hour.
Q: Is it possible to book a private charter for a special occasion?
A: Absolutely! We offer private charters for special occasions such as birthdays, anniversaries, or corporate events. Contact our team for more information and personalized arrangements.
Conclusion
Embarking on a hot air balloon adventure with Balloon Adventures Dubai is an experience like no other. From the moment you take off until you touch down, you will be immersed in a world of beauty, excitement, and wonder. Witnessing the majesty of Dubai from above is a truly awe-inspiring experience that will leave you with memories to cherish forever.
So why wait? Take a leap of faith and let us guide you through the skies of Dubai. Book your balloon adventure today and get ready to create memories that will last a lifetime. Balloon Adventures Dubai awaits you with open arms, ready to unveil the majestic skies and make your dreams come true. Balloon adventures dubai language is an experience you don't want to miss!